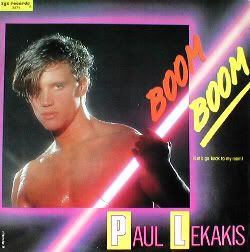 Sex and dance music have always gone hand-in-hand. The pounding rhythms, the titilating synth melodies, and, of course, the lyrics can all be related to the ultimate act of love. While some songs try to mask their adult subject matter, others embrace it and throw it right out onto the dancefloor.

Take today's example. A pounding rhythm that's half Hi-NRG, half Italo-Disco, and 100% sexy. "Let's go back to my room." Why, you ask? "So we can do it all night."

There's definitely no B.S. about this tune. Paul wants to do it, all night, in fact, and he'd like you to accompany him. Lekakis was a perfect choice to sing this song; no one can make the young ladies (and probably lots of young men as well) get into a sexy song faster than a bouncy little well-built blonde guy with a surfer thing going on.

The producers of this track definitely cashed in on the fact that sex sells. They were right, it certainly does, but it clearly can also make one of the greatest dance tracks of its era.

Listen to it here.