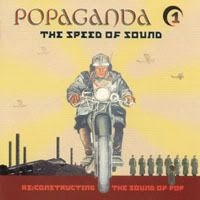 Throughout the last decade, Freezepop have established themselves as a valued presence in the electronic music scene. The best I can tell, they're just three kiddos from Massachusetts who love synth. Honestly, what more do you need to make a band than that?

Their sugary, sweet synthpop melodies have been making hearts sing since 1999, when they formed in Boston. After a couple of EPs named after various colors, they released a breakthrough LP entitled Freezepop Forever in 2000. It contained "Plastic Stars," which remains to this day one of the purest love songs I've ever heard. Another EP called Fashion Impression Function followed the next year, and about this time the band really began to get noticed by neon kids like myself. Their second LP on the Archenemy label was 2004's Fancy Ultra Fresh, which contains the French-flavored "Parlez-Vous Freezepop" (a personal favorite).

Thanks to their songs landing in video games like Guitar Hero II ("Less Talk More Rokk") and Rock Band ("Brainpower"), Freezepop are doing pretty darn well for themselves, and I think it's fantastic. These kids are living the synthpop dream! If you like today's track, I recommend their entire collection to be added to your library. All of it can be purchased (at very nice prices) right from the band on their website.

This track never actually appeared on a Freezepop album, but it's one of their most well known. It's a cover of the songs "Boom Boom (Let's Go Back To My Room)" by Paul Lekakis (which I wrote about back in December) and "Boom Boom Boom Boom" by Vengaboys. It's much less in-your-face than either of those songs, but I think that's what makes it so cool. Freezepop's songs are incredibly mellow, and bring to mind images of sitting on a cool neon beach sipping some sort of electric limeade, but they still make you want to dance!

Listen to it here (and sorry for the stupid anime clip, but there is no music video).