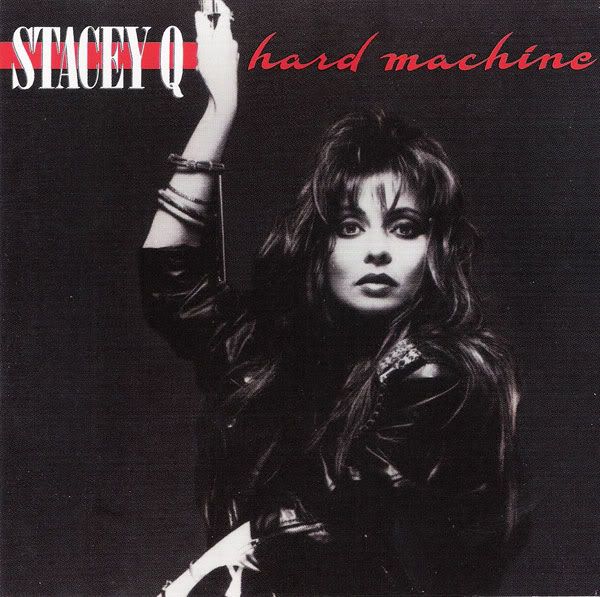 It's very tough for me to articulate the brilliance that is Stacey Q.

Never in my life have I come across an artist that moves me the way that she does. Her repertoire pulls from a variety of genres and styles, everything from Hi NRG (arguably the style for which she is best known) to synthpop to freestyle, to more surprising styles like pop rock and new wave, and even folk rock & acoustic rock.

Stacey's first album as Stacey Q was 1986's Better Than Heaven. It's a solid Hi NRG album, pausing the groove only briefly for the album's one downtempo ballad: "Don't Let Me Down." The album did fairly well commercially mostly thanks to the Top 40 singles "Two Of Hearts" and "We Connect."

Then Stacey did something that forever rid her of any "teen pop" label that one may try to slap on her: She released 1988's Hard Machine, an album that strayed far from the Hi NRG sound of the last record (except "I Love You," which kicks ass anyway). The album is filled with glorious rock music, but not without the synthesizers that are a staple of the Stacey Q sound. The album even has a downtempo number that's borderline R&B music ("Don't Make A Fool Of Yourself"), and was even remixed on the 12" by the great Shep Pettibone.

"The River" is where the album takes its most surprising turn. It's a raging, anger-and-lust-filled new wave track that makes you want to drive your car at dangerous speeds. Stacey is foraging new musical territory with the track, but she doesn't miss a note. This track alone proves that the girl can rock just as well as the big boys, and she's not afraid to knock 'em down a few pegs.

Stacey actually performs this song in the 1989 movie One Man Force, where she makes a cameo as Leah Jennings, a rock singer who gets kidnapped. Her part in the movie is tragic, but watching her rock out on the mic singing this song is magical (even if she gets kidnapped in mid-lyric).

Ah, Stacey Q. Why can't the world be made of your music?

Listen to it here.