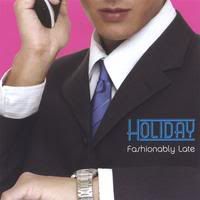 This is an example of what is, to me, perfect pop rock.

Holiday was a band from Fargo, ND. They got noticed after the release of a 2004 album called Living With The Fallout, which had a couple of radio singles in their area and on college radio stations. This track is from their 2005 followup, Fashionably Late, an ironic title as it describes something that the album was anything but. By then they were based out of the USA's greatest city for music: Minneapolis, MN.

There is nothing more to making a great pop rock song than what you hear here. It's relatable, youthful, and easily remembered. It's also extremely easy to get stuck in one's head, which brings new irony to the title.

I wish I knew more about this band or even had a MySpace to link you to, but all I can do is send a cry for help to citizens of Minneapolis to give me more info about this band. I've read in a couple of comment areas that they've broken up, and their lack of Internet presence supports that theory, but I don't have any concrete evidence.

Help?

UPDATE: Here's their MySpace!

Listen to it here.