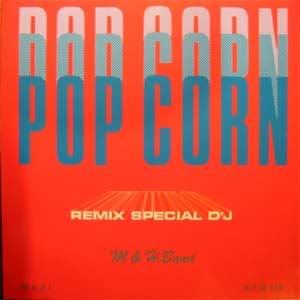 I noticed while passing a bulletin board today that it's "National Popcorn Day," so I'm paying appropriate tribute.

"Popcorn" has one of the richest histories of any song you'll ever hear. It was written by Gershon Kingsley in 1968, and he was also the first artist to record it. Four years later, a group called Hot Butter re-recorded it and released their version, and it became a minor radio hit. Theirs is arguably the most well-known version of the song.

Since then, over 60 different covers of the song have been recorded. Don't believe me? It's all detailed on this intensely cool webpage, complete with sound samples of nearly every mix of every version.

I chose M & H Band's version as today's track because it fits my style, and it's my personal favorite version of the song. It's notoriously miscredited to Kraftwerk on peer-to-peer file sharing networks, but to my knowledge Kraftwerk never did a version of this song. The advantage of writing a song with a simple yet memorable melody is that it really can be recorded in just about any style. The Hot Butter version is very leftfield and skiffly, and this version is straight-up Italo Disco. There have been house versions, pop rock versions, ambient/experimental versions, and many other styles as well. Browse the site for a while and I'm sure you'll find a favorite!

Listen to it here.