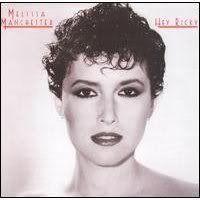 Apologies for the lack of posting for the last few days. I was in a car accident on Thursday, but everything is (mostly) back to normal now, and the traxx must go on.

I thought this would be a nice follow-up to the Louise Tucker track in the last post. Melissa, like Louise, has a powerful voice, but uses it in a different style of music. She's very much of the "soft rock" vein of music, which is cool because she totally does rock.

Most people have probably heard her song "Don't Cry Out Loud" (I'm quite sure it's been in a movie or two), but this song blows that softcore ballad about domestic abuse right out of the water. The subject material here is something quite happy: Guy likes girl, but isn't sure if girl likes him back, and singer is assuring guy that girl has him on the brain. It's a really cute notion, something that sounds like it should apply to middle school students.

I think the beat in this song is unique, because it's the only time that I've ever really wanted to dance to a soft rock song. Melissa's band uses a really cool kick drum that I've never heard replicated on another track, or at least in the way that it's used here.

And, as a closing note, I would like to extend my thanks to all those who have read this blog thus far and given me feedback of some sort. Thank you for your ongoing support as this blog graduates into its sophomore stage of life. Srsly...you should hear how I talk about you guys.

Listen to it here.